American Girl Barbie
American Girl Barbie is also known as Bendable leg Barbie (stock #1050). American Girl (AG) Barbie is a very popular doll with collectors, and unlike the Bubble Cuts who are easy to find she is more elusive. She hit the market in 1965 and was sold until 1966.  Along with her new bendable legs Barbie sported a new chin length Pageboy hair style. Her hair color can be found in a variety of colors such as, brownette, titian, dark brown, blonde, platinum. Lip colors ranged from pinks to corals, the color may fade to a yellow color many collectors call butterscotch. She displays the following Mattel logo on her bottom 1958 Mattel,in U.S. Patented U.S. Pat. Pend.. One thing to look for when buying a American Girl is leg damage. Leg damage will devalue the out of box doll, another thing to look for are chew marks, stains and tears.  Ideally legs should click in three places and hold the pose.  American girls do not have pierced ears and she came in  tank bathing suit with a multiple colored stripped top with a turquoise bottom and matching open toe turquoise mules.  A new line of elegant clothes was release with her, this series is known as the 1600's series by collectors. Many of the outfits came with the new closed toe mules that were color coordinated to a particular outfit. The outfits from the 1600's series are very much in demand by collectors mainly due to the quality and beauty is considered the best of the Mattel line. These outfits were only sold for two years making them a little harder to find than the earlier 900 series outfits. Another factor making a complete outfit hard to find is the material use in these outfits are more delicated so they may be found in poor condition. Also, included were many small accessories that were easy to loose. In 1966 the dolls that were release had more dramatic colored make up.  These dolls are called High Color or Color Magic American Girls.  The most noticeable differences in the High Color AG and the earlier doll is the  bright lip color. Lips of a High Color AG range from red to raspberry. These dolls normally sport a longer shoulder length Pageboy hair style. Of course High Color AG are rarer than the earlier version so she commands a higher price.  There is even a rarer version American Girls than the High Color this is the Side-Part American Girl.  She sports the shoulder length Pageboy with a visible rooted part on the side of her head, she usually wore a blue hair ribbon.  The history of the sidepart is unknown but many collectors believe the side-part was to expensive and time consuming to make so this hair style was abandon soon after production started in favor of the more simpler American Girl hairstyle. By 1967 the sophisticated look of the American Girl was no longer the popular hip look of the teenagers. Barbie radically changed her appearance and tossed out her couture fashions for a new hip wardrobe that became know to collectors as the Mod Era.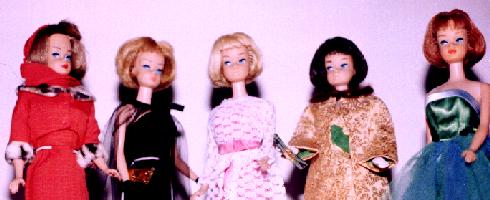 Amercian Girls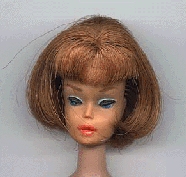 Bubble Cuts on Dior Avenue was created in November 1998. Last Update November 1998. Barbie® is a registered trademark of Mattel Inc.  I am not affiliated with Mattel. All other trademarks are copyright of their respective owners. All views expressed in this page are solely my own and are not intended to reflect upon Mattel Inc or any of their affiliates.