Welcome to my vintage Barbie page. I hope to share with you some of my collection. Hope you enjoy it as much as I do. I have divided the pages into sections. You will find Bubble Cuts and American girls. I am still working on a Mod-Era Page, hoepful this will be added soon. This is now the home of The Vintage Barbie WebRing Interested in joining just click the button below.

A bit of information about my Barbie collections. I have collected Barbie as an adult since 1984. It is probably no coincident that this is the year my son was born and I started spending more time shopping in Toy Stores. My first purchases as an adult was Day to Night Hispanic Barbie. As a child I had a Stacey (red hair), a Jamie and a Live Action Barbie. My mother purchased one each Christmas for me along with several outfits. Funny thing is my mother did not like Barbie at all she thought she was a waste of money. I still have one of my original dolls a walking Jamie. My mother gave away my sisters' and my Barbies to younger cousins when we became teens. Since all her daughters collect dolls as an adult she regrets that she did that. I have over 500 dolls both modern and vintage. If I had to pick a favorite Vintage Barbie it would be difficult to decide between Bubblecuts or American Girls. My favorite outfits are broken down the 900 outfit is Theater Date and 1600 is Matinee Fashion and Mod Era is Extravaganza. For the curious click here to see a photo of me.
---
This is the New Home Of Vintage BarbieŽ Ring. If you are interested in joining click here.
Here are some information about Vintage Barbie and her fashions.
Barbie Bazzar's October 1997 Poll
For Top Ten Vintage Outfit
1. Gold and Glamour #1647
2. Gay Parisienne #964
3. Solo in the Spotlight #982
4. Commuter Set #916
5. Friday Night Date #979
6. Saturday Matinee #1615
7. Open Road #985
8. Matinee Fashion #1640
9. Magnificence #1646
10. Enchanted Evening #983 & Fashion Luncheon #1656
For fun here are my top ten from the 900s, 1600s and Mod Era
*900s*

---

1. Theater Date #959
2. Garden Party #931
3. Sheath Sensation #986
4. Orange Blossom #987
5. Senior Prom #951
6. Party Date #958
7. Dinner at Eight # 946
8. Plantation Belle #9
9. After Five #934
10. Golden Elegance #992

*1600s*

---

1. Matinee Fashion #1640
2. Black Magic #1609
3. Garden Wedding #1658
4. Golden Glory #1645
5. On the Avenue #1644
6. Evening Enchantment # 1695
7. Music Center Matinee #1663
8. Reception Line #1654
9. Garden Tea Party #1606
10. Formal Occasion #1697

*Mod Era*

---

1. Extravaganza # 1844
2. Fab City #1847
3 Fab Fur # 1493
4. Special Sparkle #1468
5. Winter Wow #1486
6. Victorian Velvet #3431
7. Bright Brocade #1786
8. Blue Royalty #1469
9. All That Jazz #1848
10. Two Way Tiger #3402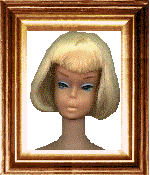 Results of our last poll for favorite vintage 1600 Fashion!
Our Last Poll
For Top Ten Vintage 1600 Outfit
1. Gold and Glamour #1647 Fashion Luncheon  #1656
2. Golden Glory #1645 & Shimmering Magic #1664
3.On the Avenue #1656
4.Saturday Matinee #1615
5. Magnificence #1645 & Matinee Fashion #1640
We have a New Poll for 900s Fashions. Please take a minute to vote for your favorite.
---
Grading Systems
Collectors use a Grading System for vintage dolls and fashions. It helps to know the item's grade you buying. If you are using a price guide the higher price zone are for the items that are factory perfect, lower prices for less than perfect items or dolls. Now the trick part not all folks agree on what is mint or perfect. So you must use your own judgement on what is a fair prices. I used several reference books to help build this guide.

NRFB- means never removed from the box, factory sealed
MIB- means mint in the box, brand new condition
C/M- complete and mint, means all pieces of a mint outfit are there
MOC- mint on the card, for outfits that came on cards
Mint- unplayed with condition
NM- near mint, play with but in great condition
EC- excellent condition, flawless but play with
VFC- very good conditions, play with minor flaws
GC- good condition, play with flaws but still displayable
Fair- item or doll may have problems like mission buttons, stains or dirty
Another Style Grading System
C-10- Factory Perfect
C-9-Perfect but remove from packaging. Original packaging maybe missing.
C-8- Dolls or clothing flawless but lightly handled but are still original, non laundered clothing Dolls no green ear, pricks or tears on skin, no body dings.
C-7 Doll played with but has been well taken care of, some slight wear on clothing. Dolls still have no makeup rubs.
C-6 Doll and clothes with flaws. Clothes may have lost some crispness and may have to be ironed or steamed. Some may even require cleaning to remove age stains. Dolls may have makeup rubs or hair not in original set, doll's arms or legs do not click or they may have a loose leg at the hip. Items still displayable.

---
Hints for Buying Vintage Barbies and outfits.
1. Buy a Value Guide. A informed buyer is a happy buyer. There are several good ones to choose from. Subscribe to Barbie Bazaar or Millers, to Barbie doll magizines for collectors.
2. Understand who you are buying from. Are you buying from a Known Barbie dealer, collector, a OTB (other than Barbie) doll or toy dealer, antique dealer or a yard sale. A person at a yard sale will probably not has as much Barbie knowledge as a Barbie dealer. I had one lady at a yard sell tell me she had the original Barbie for sale, it turned out to be a 80's version Barbie but nothing I could say convinced her it was otherwise.
3. Even if an item is listed a mint ask questions. Especial if you are purchasing by mail or internet. Even if you have a photo ask questions. Is it torn, do zippers work, are there stains, has the outfit been laundered. For dolls ask if the doll has missing hair, body scratches, tears, missing limbs, green ear (treated or not) or cracks, ask if the doll is all original or restored. For a bendable leg doll ask if her legs still work. Remember your version of mint may not be another persons definition of that word.
4. Buy the dolls you like. Just because the value has gone up in the past does not mean it will continue to do so. If you are buying for investment remember the doll or outfit will only be worth what the buyer is willing to pay.
5. Decided what you want from your collection. Do you want all American girls or #1's? 900s or 1600 clothing? Do you only want the items that are the rare or do items from your own childhood are your must have items? Do you want only items still in the original packaging or do you want to display your dolls and outfit? Is cost a factor or is there no limit to your Barbie Budget?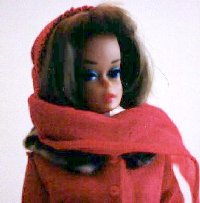 ---
Books and Magazines about Vintage Barbie
1. The Story of Barbie author Kitturah B Westenhouser. Features: History of Barbie from 1959 to 1993.
2. The Ultimate Barbie Doll Book author Marcie Melillo. Features" Detail identification guide for US issues from 1959 to 1995. Includes Barbie and her friends. Price Guide included.
3. Barbie Doll & Her Mod, Mod, Mod, Mod World author Joe Blitman. Features: Complete history of Barbie and her fashions during the years 1968 to 1972. Price Guide included.
4. Barbie Fashions Vol. I 1959-1967 author Sarah Sink Eames. Features: Complete history of Barbie Fashions from 1959 to 1967. Price Guide included.
5. Barbie Fashions Vol. II 1968-1974 author Sarah Sink Eames. Features: Complete history of Barbie Fashions from 1968 to 1974. Price Guide included.
6.Barbie Doll Treasures 1959-1997 author Rebecca Ann Rupp. Features: Barbie Fashions, Dolls, Structures and more. Price Guide included.
7.
Barbie Bazaar Magazine.
The Official BarbieŽ Doll Collector's Magazine site!
7.Barbie Doll Collector's Handbook authors A. Glenn Mandeville, Marl Davidson, Priscilla Wardlow, Gar Ruddell. Features: How to identify, where to buy and sell, and how to protect your collections are guaranteed to enhance your collecting skills. Price Guide included.
Restoration of Barbie Web Sites
1. Maryann Roy's Vintage Restorations. Maryann's site features a gallery of before and after shots. She also customizes vintage dolls into "TOWNIES".
2. Krista's Doll Restoration . Site features Krista's restorations and an identification guide. Wonderful site.
3. Marirose Designs. Looking for a hard to find vintage fashion. Try one of Marirose's reproductions vintage fashions instead.
Vintage Barbie Vendors' Web Sites
1. Sandi Holder's Doll Attic. Sandi has a vintage list and sells modern dolls as well.
2. Kitty's Collectables . Kitty sells totally vintage Barbie and friends and vintage fashions. Wonderful site, check out her featured dolls!
3. Classic Pink. Linda sells exclusively vintage Barbie, fashions and accessories.
3. Marl & B, featuring the Barbie Doll.. Marl sells vintage Barbie, fashions and a great varitiy of modern fashion dolls. She has photos to check out of the vintage items to sell to.
Besides Barbie dolls I am an avid animal lover. Please remember to spayed or neuter your pets and to give or voluntary to the charities in your area that help animals and wildlife.

My Vintage Barbie was created in November 1998. Last Update 18 Sept 2000. BarbieŽ is a registered trademark of Mattel Inc. I am not affiliated with Mattel nor is this page nor is The Vintage BarbieŽ Webring. All other trademarks are copyright of their respective owners. All views expressed in this page are solely my own and are not intended to reflect upon Mattel Inc or any of their affiliates. All dolls feature in these pages are from my personal collection unless otherwise stated.